5-in-1 Entry TUYA Bluetooth Smart lever Lock is available in four ways to unlock, including fingerprints, passwords, Apps, Voice control, and Keys.  
4558 and 5572 Mortise lock bodies are compatible.
Replace your current mortise lock with a new one included.

All features are totally the same with 190 Smart Lever locks but the lock body is the only difference between the two models. 

Works with Tuya Smart, Smart Life, or any OEM APP based on Tuya.

Works with TTlock, TThotel and TTRenting.

Tuya Bluetooth, TTlock Bluetooth, or just a digital version without any App are all available for this smart lock.
Share
View full details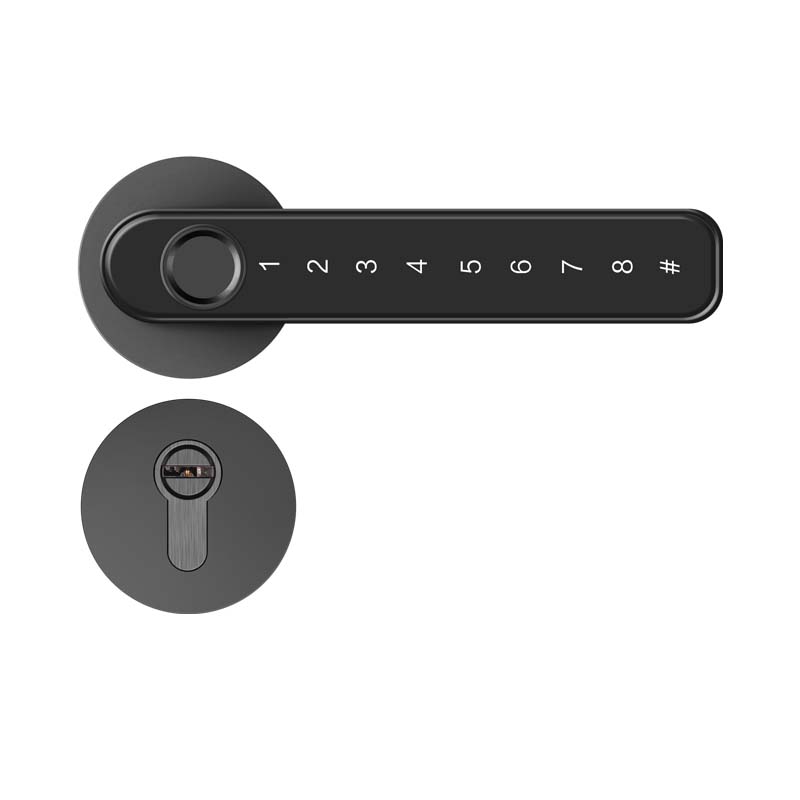 Specification of TY190 Smart Lock
Product Information
Smart Locks based on TUYA App
Product Type
Smart Lever Lock
Product Model
TY190
Product Color
Black (Optional Color Silver)
Main Material of Handle
Zinc Alloy
Size of Handel
150mm*65mm*28mm
Suitable door thickness
35 to 50mm
Suitable type of door
Wooden door
Material of latch
Zinc Alloy
Type of latch
Single latch
Length of latch
Adjustable length is 60/70mm
Suitable for left hand door and right hand door
√
Where to install?
Interior doors like doors for room, apartment,hotel, office, school, warehouse, etc
Unlock and Lock Ways
Fingerprint Unlock
√
Code Unlock
√
Card Unlock
×
APP Unlock
√
Voice Control
×
Key Unlock
√
Remote Unlock
√


(

requires gateway

)

Free Passage Mode
√
(If you enable this feature, everyone can unlock the door without the passcodes or right fingerprints.)
Smart Function
Remote management
√


(

requires gateway

)

Access for family members
√
Online Temporary access One time
√
Online Temporary access limited by date and time
√
Offline Dynamic Password
√
(Wherever you are, you can generate a one-time dynamic password which valid 5 minutes and share it with visitors.)
Double lock  (Interior secure switch)
√
(Once this is enabled, only the first 3 unlocking permission and the App of the Owner of the are available to unlock the door.)
Activity log (Wrong passcode or fingerprint alarm,unlock record)
√
Anti-peep Code
√
(You can enter random digits before and after your passcode. The door unlocks as long as the correct passcode is included.)
Low Battery Alert
√ (Lower than 4.6±0.2V)
Voice Broadcast
×
Technical Data
Protocol
BLE 4.0
Type of Fingerprint Module
Semiconductor fingerprint module
Number of fingerprints
100
Recognition time
≤0.5s
Rejection rate
≤0.01%
False acceptance rate
≤0.0001%
Number of Codes
100
Length of digit for each code
6-10 digits
Number of Keys
2
Scratch-Proof keypad
√
Battery
AAA*4 (excluded)
Battery Life
12 months
Emergency Power
Micro USB, 5V
Weather-proof
NO
Working Temperature

-20

℃

-65

℃

Working Humidity
20%-93%RH
Comparison between 190, 290 and F290 Digital Lever Locks
Model 190
Model 290 & F290
Single latch (Adjustable length 60/70mm) provided
4558 Mute Mortise Lock provided, relative cylinder and cylinder cover provided.

The shape of cover of the front handle of F290 is square, but the 290's is circle.
All others features are totally same
Interested in OEM?
Feel free to contact us for requesting quotation for OEM this product with your own brand by following five ways as per your favor:
Scan the following QR Code to chat on WhatsApp.
Scan the following QR Code to chat on Wechat.
Click "Chat with US" as a visitor.
Send email to "sales01@pldlock.com".
Leave your questions and contact information